A peach scent with bergamot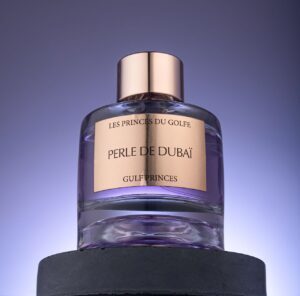 You are invited by Les Princes du Golfe to enter the sumptuous palaces of Dubai, to discover one of the treasures hidden in these ancestral castles : Perle de Dubai perfume.
Gardens embellish the middle of the palaces and give off the scent of exotic fruits ! The smells of jasmine flowers escape in a slight breeze and take you by the tip of the nose, and oud incense soothes you with their smoky scent. In the midst of these smells, hides a rare perfume that visitors admire with passion… All that remains are a few precious bottles of Perle de Dubai.
A fresh oriental fragrance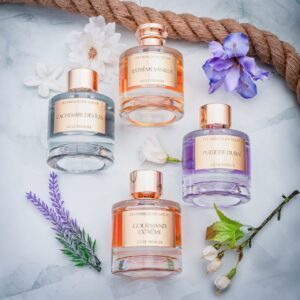 This olfactory treasure is carefully preserved in a few boxes. Its smells are described as a field of fruits and flowers that takes you on a sweet walk. Its top note seduces you with the freshness of bergamot, peach and mandarin, and its heart note sublimates you with the green and vital fragrance of the geranium rose. A praline vanilla beautifully constitutes its background, and makes this perfume an addiction.
Before your departure, you generously treat yourself to one of the most beautiful boxes of this perfume to leave with a vivid memory of a palace full of wonders. It will accompany you everywhere, to remind you, if only for a moment, of the sensuality of the smells of the East, even when being far away, in the West…