Perfume with amber and vanilla
There are landscapes that upset and transform you. The simple sight of them marks your subconscious, but it is the smell of these places that engraves them in your memory. How to combine the essence of the Orient in a bottle? How to remember this powerful contrast of an arid desert and this refreshing sea? Or this flowery oasis near which one finds tranquility, where one eats, rests and perfumes oneself with the Oud of the woods which grows out of sight…
Henri Matisse crossed the Mediterranean to find light. Alexis landed on the shores of the Persian Gulf, his Parisian life in simple luggage, to produce an emblematic juice of oriental perfumery . Having put his whole person into it, he had no choice but to give it his name.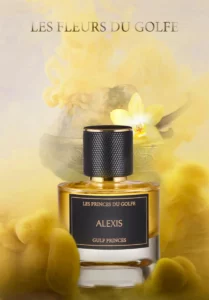 The amber of the seas, this treasure of perfumery offered to us on the beaches of the world, this emblematic oriental note which perfumes the greatest palaces and the necks of princes and princesses, has found its alter-ego in vanilla. Gentleness alongside strength, in a subtle and rare balance: such is the prowess of Alexis.
Perfume with amber and vanilla, opening on powdery notes, the rose crowns this mixed perfume of character. Carried by men of adventure, traveling to the confines of the Orient, to discover the treasures offered to humanity by the sole Creator.